Hey hey hey, it's time for another costume contest!  But first, the winner of Costume Contest #1 was…
Smart Dolphin!  Smart Dolphin was the first to guess all of the items correctly, including the fact that the vest was from Zack on Steamworks Island and the bandolier (the strap across the chest) was from Skullduggery Island.
Congratulations to all of you who got the right answers!  Special shout-out to Brave Bean for being the first, but he was edged out by Smart Dolphin who was a tad more specific about the vest and the chest strap.  Congrats to both and to all of you awesome Poptropicans who played.
Here are the official answers for Costume Contest #1: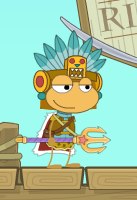 HEAD – the headdress from the Aztec King (TimeTangled Island)
BODY – Zack's vest (Steamworks Island)
CHEST – the bandolier from the British soldier (Skullduggery Island)
PANTS – the leopard skin wrap from the Nabooti Museum guard (Nabooti Island)
BACK – the king's cape (Astro-Knights Island)
HAND – Poseidon's trident (Mythology Island)
And, for extra credit, some of you correctly identified that the picture was taken on the dock at Fort Ridley on Skullduggery Island.  Nice going!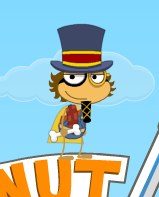 Now, on to this week's contest!  This outfit has six items: four of them are from four different islands and two of them are from the Poptropica store.  How well do YOU know your Poptropica costumes?  As always, extra credit goes to those who can guess where this week's profile image (above) was taken.  Good luck!