EDIT: There's been some feedback in the comments about our Costume Contests.  No, the contests aren't over, we're just taking a short break!  We'll be back with a new contest soon.  Thanks for your interest and support!
Here are the official answers for Costume Contest #6: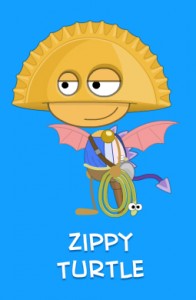 HEAD – Empanada vendor's mask in Buenos Aires (Game Show Island)
BODY – Emcee's toga at the Coliseum (Poptropolis Games)
SHOULDERS/CHEST – Helen Hiker's cantina (Reality TV Island)
PANTS – Wooden leg of toothless pirate in Petey's Pirate Pub at Parrot Port (Skullduggery Island)
BACK – Dragon's wings and tail (Poptropica Store)
HAND – Rattlesnake Wrangler's snake lasso (Wild West Island)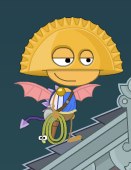 The profile picture was taken on top of the electric eye building on Toupee Terrace on Spy Island.  Huge thank you to to everyone who has participated in our Costume Contests!  You're awesome!