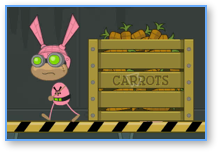 An interesting post today on the Creator's blog. They posted the video below with this text:
It's a good thing I had my speakers on or I might not have guessed anything was different! Weird stuff.
So…they've added sound effects to 24-Carrot Island?? Or is there something else going on? What do you think? Discuss!