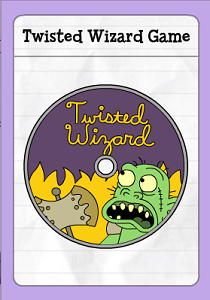 The Twisted Wizard Game is a CD that you need to return to Rowley, and Rowley will give a Joshie Fanclub membership card in return by bringing back his Game. This was the game that Greg is playing, and he can't beat it so you need to help him.
How to Get the Twisted Wizard Game
In the first version on the Wimpy island, you will just need to give Greg the Twisted wizard Game Guide that you find in the school, and he can beat the game easily. But now is more exciting because they've added a mini game for the Twisted Wizard Game. You will need to click the Wizard before you start the game. Now, follow the instruction. You have to create a tower for the wizard by placing the blocks beside him as fast as you can to create a platform for him. It's a 3 stage game, when the demonds will come after a minute or two and you need to use your powers to vaquish them by clicking them.