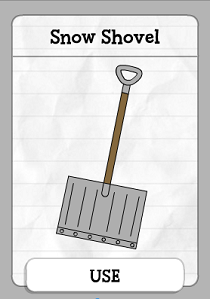 Use the Snow Shovel to help Manny's grandma to clean the snow blocking her garage. Stand in the driveway and then Use the snow shovel in your backpack. This will start the snow shoveling game. In this game, all you need to do is click to pick up the snow and then drop it over on the right side. You must clear all the snow from the driveway before your body temperature gets too cold.
How to Get the Snow Shovel
Run to the right to get to Whirley Street, home of the notorious Whirley Street Kids.
Jump and move to the right, trying to avoid the snowballs they are throwing at you. All you have to do is reach the snow shovel which is a few steps to the right. Once you get it, go back to the left and leave the area.