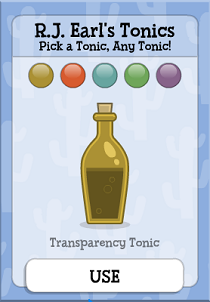 Use the R.J. Earl's Tonics to defeat the El Mustachio Grande's Gang that invades the bank in Wild West island. The most important item in R.J. Earl's Tonics is a transparency tonic that can make you invisible. Use this, and the gang won't see you coming. So you can sneak out to their site and defeat all of El Mustachio Grande's gang of bandits, outlaws and thieves.
How to Get the R.J. Earl's Tonics
If you found the Gold Nugget in the river, ride down to Rock Ridge and go speak with R.J. Earl. Open your backpack and use the gold nugget you found in the river. He'll sell you all of his potions for the gold nugget.