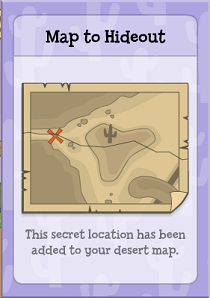 The Map to Hideout is a secret location that will be added to your desert map. This is the place where El Mustachio Grande and his gang are hiding.
How to Get the Map to Hideout
There are two pieces of Map to Hideout, the first one was left on the bank in Rock Ridge. Run over to the bank and jump up above the door frame, where you'll find half of the map to the bandit hideout.
The second piece of Map to Hideout is with the Man with a big head in Dos Cactos. Ride your horse to Dos Cactos and speak to the guy with the big head. Use the blue tulip in your backpack to give it to him. His head will return to normal size and he'll give you the second half of the map to the hideout.