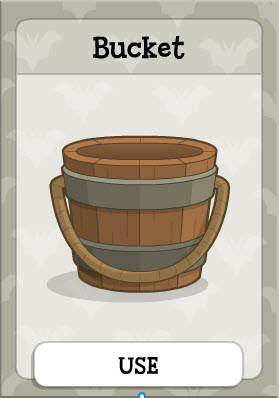 Use the Bucket to get some water from the fountain and water the plant. The plant will grow like a giant beanstalk leading you to the Laboratory of Count Gram.
How to Get the Bucket
If you thought you were done with candles with lighting the chandeliers, well surprise! It's not yet done, you'll need to light and fire the cannon three times to break the wall on top. Head back out to the Great Hall and grab a candle. Light it in the fireplace and return to the Armory. Walk over to the wick at the end of the cannon and it will light and fire the cannonball out of the window. The force of the explosion will cause the cannon to flip around and point to the right. Then fire it up again and it will point to the top. Fire it again and it will crash the roof above. Jump up onto the top of the cannon and then up into the room above you. There's a small bucket here.