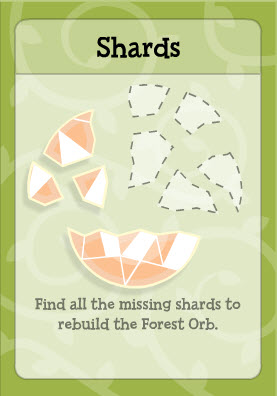 The Shards are the pieces of the forest orb. You will need to restore these from the construction foreman and return it to the queen. Although the stone is almost complete there's a way to recover it by playing the mini quest.
How to Get the Shards
These will be your final quest, to stop the construction in destroying the forest. After the Queen gave you the amulet, you'll arrive outside where construction vehicles are passing by. Put on the amulet and activate the green icon to run fast, catch the crane with the wrecking ball and jump up onto it. Then activate the orange icon to make you super strong and push the crane arm to the right. Then activate the blue icon to fly to the top of the crane. Land on the lever and release the wrecking ball, which will fall to the next bulldozer. Jump down and change to troll power, click on the wrecking ball to lift and throw it to the dump truck. Change to goblin power again and catch the dump truck and jump to its fuse. Use troll power to smash the fuse box. This will stop the dump truck and cause all the vehicles to crash. The foreman will go out and return the orb shards.