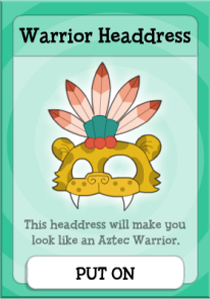 You need the Warrior Headdress to talk to the guard in the Aztec Empire that is wearing the Climbing Goggles, which is a lost item that needs to be return to the man in blue hoodie near the tent at the top of the Mount Everest (1953 AD – 11'oclock in your Time Device).
How to Get the Warrior Headdress
Jump off the guards in the Aztec Empire and continue to go right till you find the last last building were an old indian wants to retire, he will give you the Warrior headdress. Put it on so you can talk to the guards and get the Goggles to the guard on the left.