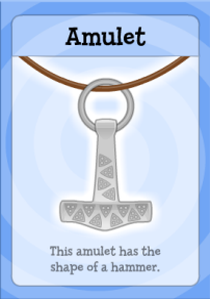 The Amulet is one of the missing items that you need to recover and return to the correct time period. This Amulet must be return in the time of Vikings (2 o'clock, 831 AD in your Time Device).
How to Get the Amulet
Getting the Amulet is easy, go to Great Wall of China (6 o'clock, 1593 AD) using your Time Device and go far right above the gunpowder where it was placed. You will find an old chinese and he will give you the Amulet if you solve a puzzle game which is easy. You just need to remember the card is place. TIP: look into the card carefully and follow where it is placed.