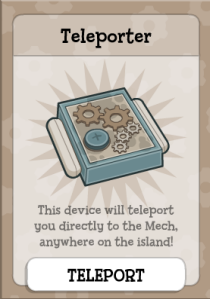 You can use the Teleporter to instantly travel back to the Mech from anywhere you go on Steamworks.
How to get Teleporter
Once you got the Mech Crank and Steam Motor, use them to the Mech on Sully's shop and it will be repaired and now you can walk around in the Mech. Is this the coolest thing ever in Poptropica! On your first step to your Mech, you'll get a teleporter.