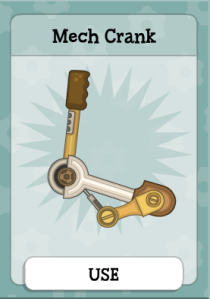 The Mech Crank is one of the pieces you need to repair the Mech in Sully's Garage and bring it to life.
How to Get the Mech Crank
Go up to the top left corner of the Zack's Room and click on the wall to solve the next puzzle, which is a timed game where you have to get the steam to move safely from one corner to the other. You must click on the squares to reveal pipes underneath and then swap the pipes around to create a clear path. There are three levels to get through.
Go outside and then cross over the vine that acts as a tightrope all the way to the left, where you'll find the Mech Crank.