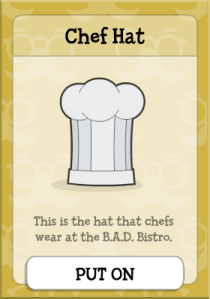 The Chef Hat in Spy Island will be use to get another item which is the fingerprint from the Boss of B.A.D. Since the boss only trusts a real chef, you'll need to be wearing the chef hat before he will ask you a glass of water.
How to Get the Chef Hat
Get to the B.A.D. Bistro, talk to the chef and apply for the job. When you apply, you'll take a test where you have to remember the order of ingredients that the chef points to with his wooden spoon. After you pass the test, you'll be hired and get a chef hat.