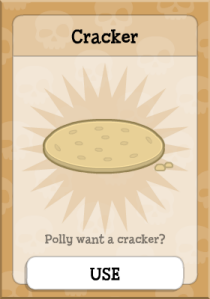 The Cracker that you will find will help you to get another piece of the map in the Parrot Port island. Use the cracker to lure the parrot to the tower, where the pirate, parrot's owner, gives you the map piece.
How to get the Cracker
Sail to Parrot Port, directly below. In Petey's Pirate Pub is the Navigator, who can increase your sailing speed if you hire her. At upper left is a Cracker.