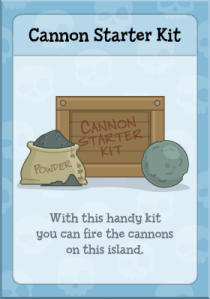 Use the Cannon Starter Kit to make the skull in the Pirate Outpost shake and one of its teeth will fall down. It will then reveal a piece of the map, which you can grab.
How to get the Cannon Starter Kit
Sail for the Pirate Outpost, directly left, and dock there. Sell your grain and buy Spice, which is cheap here. Climb up the giant skull, jumping over hostile pirates. In the cannon shack is the Cannoneer, who you may wish to hire later. At the top of the mast is a "cannon starter kit" (fuses), which will fire any of the four cannons on the outpost.