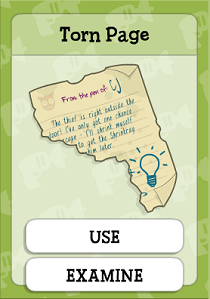 Use the Torn Page to complete the page on Cj's Diary. You will also have to get the Diary Key from their aquarium. You'll get a message from CJ. It sounds like the thief is close by!
How to Get the Torn Page
The Torn Page is on the Garbage can in the kitchen. To get inside, push the green and yellow sponge next to the Power Clean spray bottle on the floor. Jump on the sponge and then onto the top of the bottle. Finally, jump to the top of the garbage can. Once inside, you need to solve a puzzle by moving certain objects, like tuna treats cat food cans and blocks of cheese.