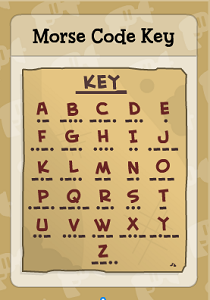 Use the Morse Code Key to understand the signal that CJ is telling you from the coordinates X-87 Y-16 in the telescope.
How to Get the Morse Code Key
Jump on the thermostat first on CJ's computer and make it spin to red so that the heat turns on. Now go to the left to the next section of the bedroom. Knock over the wastepaper basket and a bunch of paper will fall out and then rise up in the air from the heat coming up through the vent. Use the papers as jumping platforms to get up on top of the bed. Then pick up the morse code key from the top of the bed.