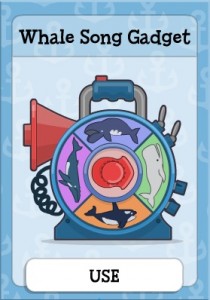 Use the Whale Song Gadget to call the Whale at the end of your quest when rescuing the captain. This is the final rescue and it looks like all the doors were already close and the ship is totally sunk. Good thing you can call the whale and it will take you into his mouth and then spitting you out (like what happens to Jonah – a famous character in the Bible) on the Lifeguard Island!
How to Get the Whale Song Gadget
You get the Whale Song Gadget from the Whale Caller which is the first person that you will save in the island.Make your way to the room # 6. You will find her trapped with all the junk in the room. Click on here and tell her to get off to the ship quickly. You will be automatically get off to the ship, so you don't need to worry on getting out.
Outside, the whale caller will give you his Whale Song Gadget.