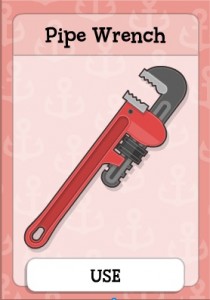 Use the Pipe Wrench to turn the Whale Gadget to the whale icon at the end of your quest when rescuing the captain. This is the final rescue and it looks like all the doors were already close and the ship is totally sunk. Good thing you can call the whale and it will take you into his mouth and then spitting you out (like what happens to Jonah – a famous character in the Bible) on the Lifeguard Island!
How to Get the Pipe Wrench
You get the Pipe Wrench from the Engineer which is the third person that you will save. You'll see the Engineer stuck on the steams at the corner of the room. Make your way through to get the location of the Engineer. He'll tell you that you must help reduce the pressure by turning the 4 valves to reduce the pressure and the water will flow through the pipe. Each valve has different colors. The first one is the Green, then orange, next is the red and the last will be the blue. You can easily find the right valve by following the color of the pipe.