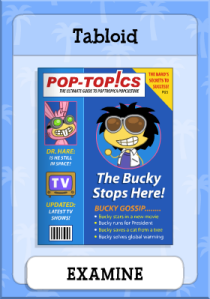 You will need the tabloid that has the application letter for you to become a contestant on a new reality TV show.
How to get the Tabloid
Go inside Mike's Market and walk to the right. There's a guy wearing a tie there. Talk to him. He'll say there's less than 24 hours before the Reality TV Island show begins and then he'll run away and drop the Pop-Topica magazine he is reading. Pick it up and the Tabloid will go to your backpack.