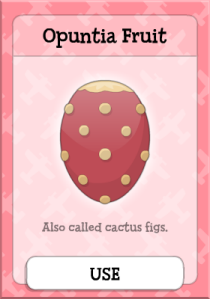 The Opuntia Fruit is a rare fruit that you can get in the Mountains of the Moon area. You will use it in Kaya Forest to get the big Turtle to wake up and move from its place. There is a hole where the tortoise was sitting and you will find the other items.
How to get the Opuntia Fruit
On the Mountains of Moon, jump onto the trees to the right of the ledge and then jump up when you see a woman above you. Speak with her and she'll tell you she's having trouble getting one of the cactus figs on the cliff. Jump up to the left and collect the Opuntia Fruit (a.k.a. cactus fig).