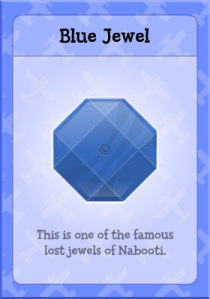 The Blue Jewel is one of the missing jewels that you will find in Nabooti Island. Finding all the jewels is your main mission in this island. Once you complete all the missing five jewels, return to the Nabooti Museum and receive your reward.
How to get the Blue Jewel
Go inside the tomb of the Sphinx in Giza and you'll encounter a series of tricky puzzles that you need to solve. The first puzzle is some rotating blocks, then jumping different hieroglyphics (pictures) on it and you must jump on them in the correct order, and the final puzzle is switching in correct order and you need to move very quickly. When you get all four switches, the sand will stop flowing and the sarcophagus in the the middle of the room will open to reveal blue Nabooti jewel.