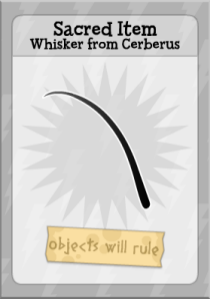 The Sacred Item Whisker from Cerberus is one of the rare and sacred items that Zeus asked you to find to save Poptropica and to become immortal. You'll need to find it to complete this quest.
How to get the Sacred Item Whisker from Cerberus
Go inside the temple of Hades and place the pomegranates on the temple, which is over to the right. A door will open. Jump right into the chasm to reach the River Styx. While riding in the boat, you need to watch out for all the obstacles that come at you. This is a tip to avoid them, stand where Charon is, duck under the flaming skull and jump over the monster in the river, but the falling stalactite will miss you each time. You'll land on the other shore and here is Cerebus guarding the place. Play your reed pipe the notes to make him sleep are blue, green, yellow, blue, red, green. Now that Cerberus has fallen asleep, you can take the whisker from him.