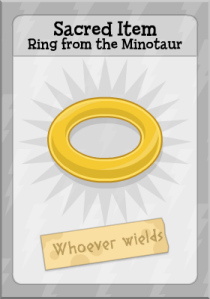 The Ring from the Nose of Minotaur is one of the sacred items that Zeus asked you to find to save Poptropica and to become immortal.
How to get the Ring from the Nose of Minotaur
Go to the left of the Garden of Sphinx and you'll see a sign for the minotaur's cave. To open the gate, use your reed pipe and play notes, the order is blue, blue, green, yellow, yellow, red, blue, green. Go inside and speak to the Minotaur, and enter his Cave Maze. Athena will give you a glowing thread to keep you from getting lost. Head for the weapons displays to keep on track. This puzzle is to the Pan bones, remove the bones and arrange them to spell out the letters TEN. Continue along and jump over the scorpion in your way. You'll reach your destination at a doorway, go through to get to the snake puzzle. This is again another puzzle, you need to click on the red-eye snake whenever it appears. He disappears really quick, so this keep your eyes open. When you finish the challenge, speak with the Minotaur and he will give you his ring. Just make sure you wash that thing. It was in the Minotaur's nose!