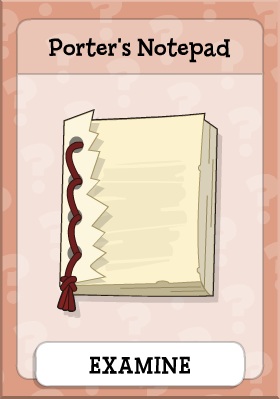 You will need the Porter's Notepad to find out who among the passengers ordered Prune Juice. While investigating the case on the lost of Edison's invention. You will find some trace of prune juice from his doorstep. It looks like the one who ordered prune juice is the theft. The Porter won't give it to you easily because it's confidential and he'll throw it to the window. It will leave you a just the Notepad without the order list, but the imprint is still there. So you need to use the Pencil to trace the writing.
How to Get the Porter's Notepad
At the beginning of your investigation, you talk to several people in the train to get clues. Along the way, you'll find spots at Thomas Edison's cabin door step, they are prune juice stains. You need to know who among the passengers ordered Prune Juice, go to the left and talk to the train porter. Click on the glass of prune juice. He'll tell you that he can't tell you what the other passengers ordered. He throws away the order sheet and leaves, but his notepad is still on the counter.