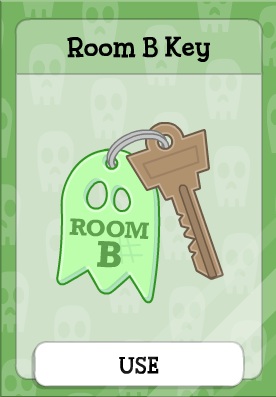 Give the Room B Key to the sailor that you will find on the shore of the island. He's tired and looking for a place to say. Give him the hotel room key in your backpack and he'll thank you by letting you use his boat. You will use the boat to find other evidence of the ghost.
How to Get the Room B Key
On the cemetery, walk a little bit to the left and you'll find a guy in a grey suit who looks like he hasn't slept in a while. He's trying to find the grave location for his uncle, Silas Moon, and needs your help. He wants you to look it up in the archives of the Hemlock Herald. Proceed to the Hemlock Herald and go downstairs to the archive and then find the box marked "Cemetery Plots" and then click on it. Keep turning the pages in the archive and eventually you'll come to the page with the entry for Silas Moon. He's buried in Lot C, Plot 84. Now run back to the guy outside the cemetery and talk with him. He'll be very happy that the location of the grave has been found and is eager to get out of Hemlock Harbor. He'll give you his hotel key because he doesn't need to stay here tonight.