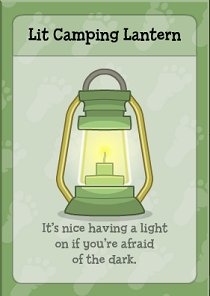 The Unlit Camping Lantern will be your light to the dark area in New Jersey. You will going to use this along with the Matches that you found in the Pub at Loch Ness.
How to Get the Unlit Camping Lantern
Go to Himalayrs with your helicopter then climb up the mountain. You will meet a sherpa. Talk to him and ask him if he can guide you to the top of the mountain. He will explain to you that you need to be tied to the ring at all times to avoid the risk of getting blown off. To climb the mountain, you need to time right. This being said, never jump when the wind heavy. Everytime you successfully jump on to another platform, simply tie your rope to the metal ring. Then Sherpa will follow. At the top of the mountain, there is an entrance on the left, go on and you will find a temple on the right, go inside the temple and you will find a monk guarding the Yeti's Scalp. Talk to him and select the third conversation, and the monk will hand you an Unlit Camping Lantern that will light you.