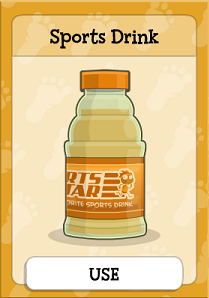 Give the Sports Drink to the gardener that is cleaning up the mansions garden on the right side of Main Street. He's been working so hard and maybe a bottle of sport drinks can break his time for a while and he will going to lend you the gardening shears. Don't worry, you won't be replacing his job, you will need the gardening shears on your next mission.
How to Get the Sports Drink
You need to get first the $5 bill hanging on the tree, once you get it got back to the main street and proceed to the General Store, the one building in red. Go inside and use the $5 on your backpack, the employee will tell you that you can only buy a Sport Drink, so take it. It's the one you need anyway.