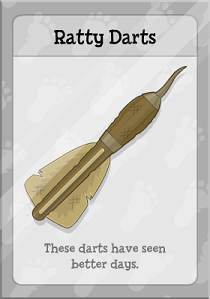 Use the Rutty Darts to play game with the man with orange mustache on the Pub area in Loch Ness. He will challenge you to a dart game and give you Rutty Darts to start the game. You will find that it's hard to make it stable and you may loose for the first time. But you should get the style in playing darts and win.
How to Get the Rutty Darts
Go inside the pub area and ask the man with mustache, he will tell you that you can capture some picture of the the monster in lake if you have a Rowboat Ticket. And he will challenge you that if you won darts to him, he will give you one rowboat ticket. You will need this ticket to your next task.