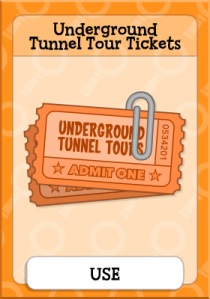 The Underground Tour Tickets is an item that the man in the Web Browser Internet cafe ask you to find, he promise you he will give you one if you can help him find those.
How to get the Underground Tour Tickets
Go to Downtown and find the garbage that is just to the right of the entrance to the underground tunnel tour. Click on the garbage can and a screen will appear showing all garbage inside. Click on each piece and drag it away from the center. Soon, you'll reveal the lost tickets that are buried inside.