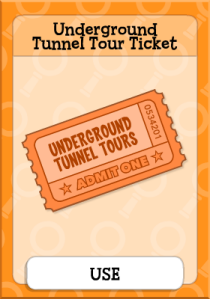 You will show the Underground Tour Ticket to the tour guide outside the Underground Tunnel in Downtown area. She'll give you a complete tour of the area below Counterfeit Island, which will ultimately give you secret access to the museum after closing hours.
How to Get the Underground Tour Ticket
Once you find the Underground Tour Tickets, go back to Main Street and enter the Web Browser Internet Cafe again. Go inside and stand next to the man who lost the tickets. Open up your backpack and find the tickets and then click on "Use". The guy will thank you for finding them and just as he promised, he'll give one back to you so that you can use it to take the underground tunnel tour.