School Blueprint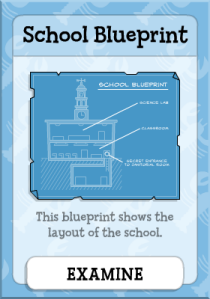 With the School Blueprint you will find where the missing bell clapper is hid, it's on the filling cabinet on the detention room.
How to get the School Blueprint
Walk outside the lab and go to the left where you'll see a row of lockers. Click on the one with all the stuff sticking out of it and enter the locker combination from the writing on the comic: 9305. When you open the lock, the locker explodes from all the stuff packed inside and you get knocked down. Walk back over to the locker and pick up the papers that are on the floor. It turns out to be a school blueprint.