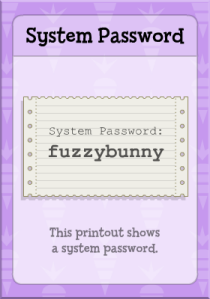 The System Password will be used to launch the robot of Dr. Hare and beat him. The System Password is fuzzybunny.
How to get the System Password
At the packaging room, you'll find a girl wearing a set of metal rabbit ears and strange swirly glasses. Click on her and say, "Hey, What's that behind you?" You'll see a close-up of the top of the rabbit ears. There's a little power button in the middle. Press that to turn the ears off and the girl will no longer be under their hypnotic power. She will get a printout from the giant machine that gives you the system password for the computer which is: fuzzybunny.