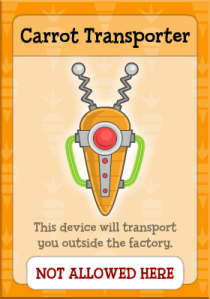 The Carrot Transporter is also an item in 24 Carrot Island that is not really necessary to have, but can be convenient if you need to travel around. When you use it anywhere on the island, you will return outside the factory. You should get it anyway, since you will find it along the way when you enter to the pipe in the factory.
How to get the Carrot Transporter
Once you are inside the factory just continue go to left of the pipe path and you will find the Carrot Transporter along the way. You can use it after you beat Dr. Hare and you will be outside the factory.