Here's a close look at all of the Poptropica costumes from the store that begin with the letter D. Whether you're looking for something dashing, devious, or delightful, look no further than these delectable outfits in Poptropica.
Dare Devil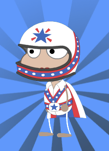 You're ready to take on just about anything in this costume inspired by legendary daredevil Evil Kenevil. The costume comes complete with a red, white and blue top, helmet and flowing cape. There's even a blue star belt buckle. The outfit is the same for both boy and girl characters in Poptropica.
Dark Astro Knight (Boy)
Strike fear into the hearts of your enemies with this special knight costume done in the Astro-Knights Island style. The boys version of the costume comes with a black helmet and white plume, a purple, gray top, a gray robe and a wicked looking black sword. The costume has a special move: press the space bar to strike a pose.
Dark Astro Knight (Girl)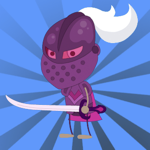 The girls edition of the Dark Astro Knight costume is much the same as the boys version, but with a big color difference. This one is purple with a pink cape and a white sword. It also has a special move when you press the space bar.
Dragon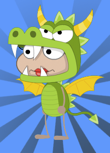 Roar! Become a fearsome dragon with this fanciful costume in the Poptropica Store. It comes in three different colors: blue, green and purple. You'll get a dragon's head, torso, wings and tail. There's no special move for this costume, which is too bad, because a fire-breathing dragon would have been very cool!