The Creators have been updating the official Poptropica blog with a few new items about the upcoming Poptropica Friends feature. They mentioned that you'll be able to see which medallions your friends have earned and even how many times you have beaten them. Remember, you can beat an island more than once by using Island Restart from your Map.
Right now you can see your own island medallion collection when you click on the green Poptropica coin at the top of the screen and then click on the Stats tab. Here's mine: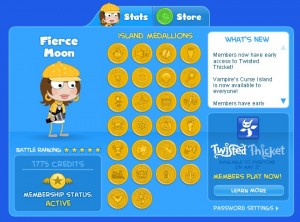 Another feature of Poptropica Friends will be the Recent Activity feed that will appear on the login screen. There, you'll see your friends and their latest accomplishments, such as completing islands, collecting game photos and more. This is the screenshot the Creators posted on the official blog:
From all the postings, it sounds like we might be seeing Poptropica Friends features very soon!