Members can now play Mission: Atlantis Episode 1. I just completed it and will be posting the complete walkthrough onto the Mission Atlantis cheats page shortly. Here's my first impressions, though. It's a fun (but really short) episode. I think we're going to have to get used to this shorter episodic format. There's really two main parts to episode 1 (more details in the walkthrough). The first is figuring how to get the key to the sub from the ship crew, and the second is photographing several rare fish underwater.
The episode ends after you chase a rare jellyfish creature into the deep water and you are attacked by a group of jellyfish. Your sub suffers from an electrical overload and you sink to the bottom of the sea floor, where you discover a whole new area. Unfortunately, the episode is over at this point and we'll have to wait to learn more, just as we will with Survival Island.
I finished the episode 18th overall, which isn't too bad since I got a late start and had a little trouble finding the last fish (he's in a separate area–but more on that in the walkthrough.)

And look who was #1! I suspect a cheat!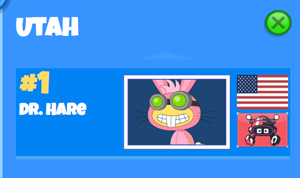 Here's the medallion for Mission: Atlantis, Episode 1: