Hi everyone! I know I need to post more Poptropica stuff and I'll try to get back to it soon. In the meantime, like everyone else on Planet Earth, I have been playing Fortnite. I'm having a lot of fun with the weekly challenges and I thought I would take notes and help other people finish them, too.
Free Challenges for Season 7, Week 5
These are the challenges that everyone can complete.
Landing Challenges
Stage 1: Land at Polar Peak
Stage 2: Land at Fatal Fields
Stage 3: Land at Loot Lake
Final Stage: Land at Snobby Shores
Deal Damage to opponents structures (5 Battle Stars)
Just do 5,000 points of damage to any opponent structures. This works best in an LTM game mode like
Suppressed Weapon eliminations (Hard – 10 Battle Stars)
Use any suppressed weapons to eliminate 3 players. Any suppressed weapon will do — my personal favorite is the suppressed assault rifle.
Battle Pass Challenges for Season 7, Week 5
You can complete these challenges if you have a Battle Pass.
Dancing Challenges
Stage 1: Dance on top of a Water Tower
Stage 2: Dance on top of a Ranger Tower
Final Stage: Dance on top of an Air Traffic Control Tower
Search Chests at Wailing Woods or Paradise Palms (5 Battle Stars)
Take your pick and search for seven chests in and around either Wailing Woods or Paradise Palms. I found most of mine inside the building structure in the middle of the hedge maze in Wailing Woods.
Search between a giant rock man, a crowned tomato, and an encircled tree (Hard – 10 Battle Stars)
In this challenge, you need to find a Battle Star that is located in a specific location on the map.
The giant rock man is located to the East of Tomato Temple.
The crowned tomato is the giant tomato head wearing a crown of utensils on top of Tomato Temple.
The encircled tree is just south of Tomato Temple on a hill. It's a tree surrounded by a circle of rocks.
Now, you can find the location of the Battle Star at the intersection of all three of the above locations. You'll find it just east of Tomato Temple on the hill near the covered bridge.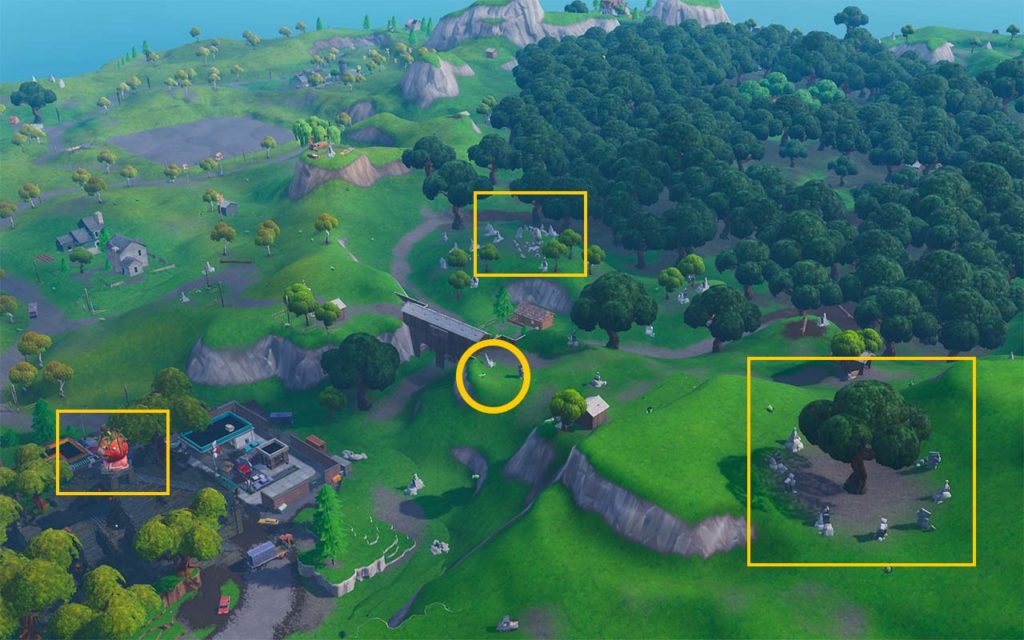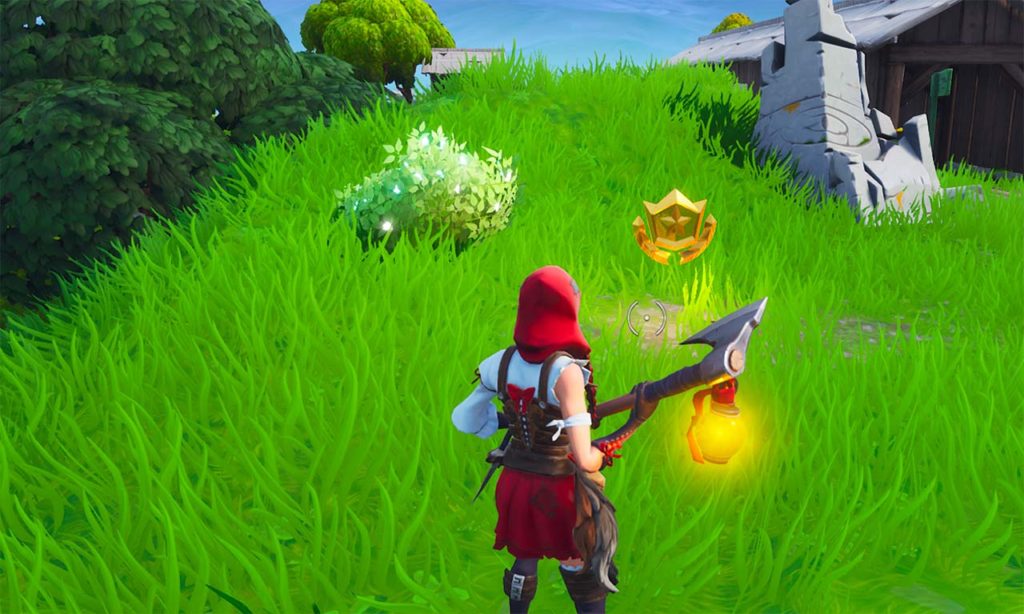 Eliminate an opponent from closer than 5m away (Hard – 10 Battle Stars)
Grab yourself a shotgun or other close-range weapon like a pistol or SMG and then head for Tilted Towers. It's your best place to find someone up close and personal.
If Tilted Towers is not your scene, you can also play one of the "resurrection" LTM modes like Team Rumble. This lets you make repeated attempts to drop in right behind an opponent via glider. It takes a little practice, but you get a lot of chances to pull it off in these game modes.