One of the great hidden secrets in Wild West Island is the Rattlesnake Wrangler outfit. It's not required to complete the quest and it's not totally obvious how to find it. It even was mentioned in the Poptropica Creators blog, but they didn't give very many clues. Here's how you get it.
After you return to Rock Ridge from capturing and returning the baby calf, the guy who asked you to help him will give you an old saddle. But he'll also ask you to help him again. He's got 5 cows that have wandered off of his property and he wants you to capture them and return them all to the ranch. If you do this second job for him, he'll reward you with the Rattlesnake Wrangler outfit.
Rattlesnake Wrangler Outfit Details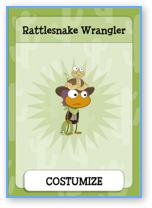 The best feature is the hat with a rattlesnake on it. It also has a green bandana and a shirt with vest. And the costume comes with a lasso rope that has a very interesting feature–a rattlesnake head at the very end. There's no special move for this outfit, but it looks really cool!