This week, there are two more rare costumes returning to the Poptropica Store. The two outfits that have come back are the Light Ninja and the Robin Hood costumes. Only members can purchase them and they'll only be available in September.
Light Ninja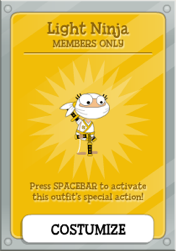 The Light Ninja outfit is a white ninja costume that comes with a katana sword and nun-chucks accented with a golden belt. If you press the space bar while equipped with the nun-chucks, you'll make them spin around. This outfit appeared long before you were able to get the free ninja outfit in Red Dragon Island and for a while was the "coolest" ninja gear in the game. Actually, I think it still is. It's a lot of fun to wear it while sneaking around the different items and in and out of the multi-player rooms. Use it with the Phantom power card to go semi-invisible and super-sneaky.
Robin Hood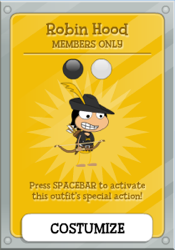 Journey back to the days of Sherwood Forest, Friar Tuck, and Little John with the other Robin Hood outfit. That's right, there are two different Robin Hood outfits in the game. This rare members-only version is available in two colors, black and white (the regular store version comes in green, red and blue). You get a vest, a feathered cap, and most importantly, a bow and arrow and quiver. The costume's special move, which you get by pressing the space bar, is that you will shoot an arrow with the bow. Steal from the rich to help the poor with this cool rare outfit in Poptropica!