The anticipation for Poptropicon continues! Poptropicon will be the next Poptropica Island, and the creators have been busy keeping us guessing for a while with the Sneak Peeks and little tidbits here and there. The latest news is that three new items have been released into the store for Members only. They include two costumes and a printable Poptropicon poster.
The costumes are the Lunar Colony costume and the Game Show costume, both obviously celebrating the past Poptropica islands Lunar Colony Island and Game Show Island, respectively. The Lunar Colony costume looks like the outfit you wear when you go into space on that quest. The Game Show costume features a look that mimics one of the robots from that island. Clearly, Poptropicon will feature lots of people walking around in various Poptropica costumes, possibly celebrating all of the islands of the past.
The printable poster allows you to create the cover for a convention booklet that features your own Poptropica avatar alongside members of a team called the Mighty Action Force. The other characters on the cover are Elf Archer, Gold Face, and World Guy.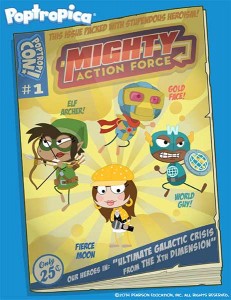 The island synopsis from the official Poptropicon info page gives us another clue that costumes will play a very important role:
Everyone is dressed up for the biggest sci-fi and fantasy convention in Poptropica. At PoptropiCon, the most important thing isn't what you do — it's how you look doing it!
The official info page also reveals that Poptropicon will be episodic, which is the direction that Poptropica has taken with Survival Island and Mission: Atlantis. There will be four episodes, and here are some screenshots from the first one.