There's a new outfit available in the Poptropica Store. It's the Mystery Train Inspector costume and it's available for members only. You cannot buy it with credits. You can only get it with an active Poptropica membership.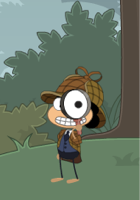 The new outfit is a classic 1800's Sherlock Holmes style detective outfit, complete with a tween hat and jacket, black pants and a shirt and tie. The best part of the entire costume is the over-sized magnifying glass, which is transparent and magnifies the background wherever you go. The outfit has a special move: press spacebar to take a very close-up look with the magnifying glass. The outfit is perfect for getting ready to solve the caper once Mystery Train Island is released on September 9.
What do you think of the new outfit? It's too bad that it's members-only, but one nice thing is that even if your membership expires later, you'll get to keep the outfit on your account. Cool!