Last week, I published a guide to cool costumes that were easy to get in Poptropica. A lot of you added comments of even more costumes that you can find, so here's another guide of very fashionable costumes in Poptropica. These four are for girl characters. I'll write a post tomorrow with dashing outfits for the guys. Special thanks to poptropicadude for some great suggestions.
And now, on to the Poptropica costumes…
Aphrodite from Mythology Island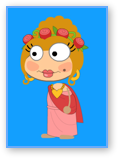 She's the Goddess of Love and she's got classical fashion taste. Aphrodite features a tiara of roses, bold and beautiful lips, a heart-shaped necklace, and pink and red flowing robes. You can find her in Poseidon's domain in Mythology Island. If you've already finished the island, just use the mirror she gave you to find her. Click on the heart on the mirror, and you'll arrive right next to where she's standing.
Queen from Astro-Knights Island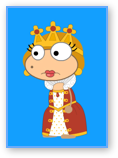 What's more fashionable than royalty? You can costumize the queen inside the castle in Astro-Knights Island for a very regal look. If the queen's robes aren't your thing, there are also a lot of great princess outfits to choose from inside and around the castle.
B.A.D. Lady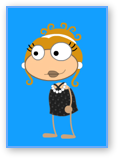 If you want to look very fashionable, head to the B.A.D. Bistro in the Balding Avenue section of Spy Island. It's just to the right of Main Street. Inside the B.A.D. Bistro, you'll find three B.A.D. operatives enjoying dinner. The woman is wearing a very fancy black polka-dotted dress with a pearl necklace, earrings, and a headband.
Goth Girl in Ye Olde Rumor Mille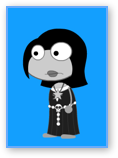 Here's another outfit from Astro-Knights Island. If you go all the way to the right and enter Ye Olde Rumor Mille and then jump up to the platform on the right, you'll find a Goth Girl. The outfit features a black dress and a skull belt along with a star necklace. I changed my skin to gray by visiting the skin color vendor in Early Poptropica and changed my hair to black inside the diner in 24-Carrot Island to complete the look.