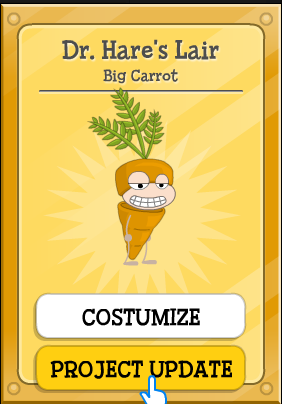 There's a new costume in the store and it's called: Dr. Hare's Lair – Big Carrot! It's in honor of the fact that Poptropica's LEGO set got 2,500 of the 10,000 votes they need to get their Dr. Hare LEGO set officially made. So, still quite a few votes shy, but they're getting closer. And we get a giant carrot to wear around. Cool! Here's what they had to say on the Creator's blog:
In the quest for 10,000 supporters for our LEGO CUUSOO project, Dr. Hare's Lair, we've reached an important milestone: 2,500 supporters!

As thanks, we're giving away a brand-new costume to anyone who wants one. Simply log in with your existing Poptropica account and enter the promo code DRHARE2500 to claim your free Big Carrot outfit.

If you're one of the more than 2,500 people who have cast your support for Dr. Hare's Lair on LEGO CUUSOO, wear this outfit with pride. If not, wear it with deepest shame. And then visit our project page to find out how you can help us reach the finish line!
So, log in to Poptropica and use the code: DRHARE2500 to turn yourself into a giant orange vegetable. If we get a new carrot costume for 2,500 votes, I wonder what we'll get if they reach the full 10,000? Hopefully, a Dr. Hare costume!